nps
This is a reimplementation of ps and top for Linux systems.
⚠ I don't use this program any more, do not expect updates. ⚠
General Features
Process properties: memory, IO, timing information, etc
System properties: CPU usage, memory usage, load, etc
Sort by combinations of properties, e.g. TTY first then by memory usage
Set defaults in a configuration file
Flexible output formatting:

Column widths user-controllable or expand to fit
User control over time formats, memory usage abbreviation, etc.
nps features
Compatible with SUSv4 ps
Flexible process selection:

Regexp match on properties, e.g. comm~emacs to get GNU Emacs and XEmacs
Compare values, e.g. rss>16M to find heavy memory users (but I repeat myself…)
Select by ancestor, user, name, etc.

--forest to expose process hierarchy
--csv output for easy spreadsheet import
--poll to capture information over time
nps-top features
Configurable system information section
Modify settings on the fly, without interrupting display
Pan display left/right to see more than fits in a terminal
On-screen help
Screenshots
nps-top with default settings: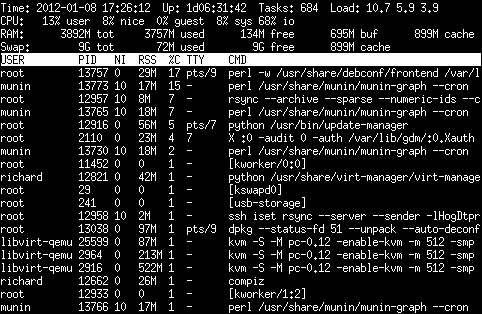 nps-top displaying proportional memory usage and IO.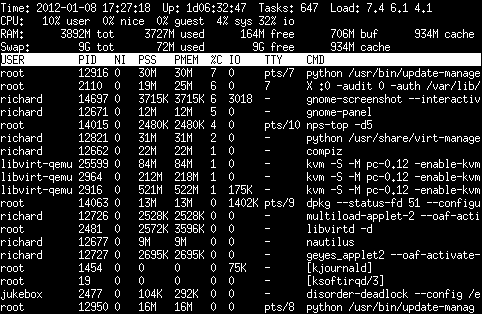 Editing the format string and displaying help: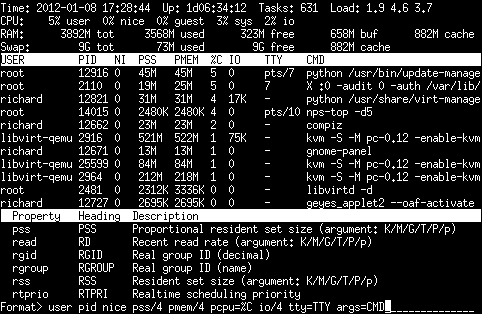 Download And Documentation
With a git tree:
git clone git://github.com/ewxrjk/nps.git
cd nps
./autogen.sh
./configure
make
sudo make install
man nps
man nps-top
You will need ncurses, which your Linux distribution probably has already.
Copyright
Copyright © 2011-2013 Richard Kettlewell
This program is free software; you can redistribute it and/or modify it under the terms of the GNU General Public License as published by the Free Software Foundation; either version 2 of the License, or (at your option) any later version.
This program is distributed in the hope that it will be useful, but WITHOUT ANY WARRANTY; without even the implied warranty of MERCHANTABILITY or FITNESS FOR A PARTICULAR PURPOSE. See the GNU General Public License for more details.
You should have received a copy of the GNU General Public License along with this program; if not, write to the Free Software Foundation, Inc., 59 Temple Place, Suite 330, Boston, MA 02111-1307 USA